High Dose Vitamin C IV Therapy
High Dose Vitamin C IV Therapy
Vitamin C or Ascorbic acid is a natural water-soluble vitamin. It is an organic substance. Vitamin C is naturally found in citrus and other fruits, and in vegetables. Vitamin C cannot be produced or stored by humans and must be obtained in the diet.
Ascorbic acid is a potent reducing and antioxidant agent (electron donor) and cofactor of enzymes that functions in
Immune health as required for leucocytes function in fighting with infections
Detoxifying reactions by recycling each other with glutathione and reducing chemical toxicity to DNA and liver cells
Formation of collagen in fibrous tissue, teeth, bones, connective tissue, skin, and capillaries.
Synthesis of epinephrine and steroid hormones produced by adrenal gland
Tyrosine metabolism
Carnitine metabolism
Intestinal absorption of iron from diets
Vitamin C Deficiency and Oxidative Stress 
Extensive literature demonstrates that cancer patients experience vitamin C deficiency correlated with reduced oral intake, inflammation, infection, physiological stress of disease processes, metabolic state of the malignancy and its effects on host metabolism and effects of treatments such as radiation, chemotherapy, and surgery.
Cancer patients experience increased oxidative stress and inflammation known to increase utilization of ascorbic acid. That increase in utilization correlates with low vitamin C blood levels in this group of patients.
Vitamin C is consumed during inflammation as it reduces free radical activity. When an antioxidant destroys a free radical, the antioxidant itself becomes oxidized.
Vitamin C deficiency interferes with collagen synthesis, catecholamine formation, prostaglandin metabolism, and cellular immunity.
Antioxidant resources must be restored in the body. When inflammation consumes vitamin C such that stores become low, the kidneys slow excretion so that vitamin C from dietary consumption can be retained. However, decreased excretion might not be well compensated oral intake during high levels of inflammation.
Vitamin C and cancer treatment 
By the 1970s, Nobel Price winner Linus Pauling had already developed a strategy to use intravenous (IV) vitamin C in cancer patients. He treated patients with advanced cancer with high doses of vitamin C and reported a positive effect on survival.
Pharmacokinetic studies show that the way of administration makes a big difference as peak plasma vitamin C concentrations after intravenous administration are much higher (up to 70-fold) than after oral intake. Peak plasma concentrations also continue to increase when the intravenous dose of
vitamin C is increased, while peak plasma concentrations plateau even though oral doses are increased.
Linus Pauling suggested that 50 grams a day or more as high dose of vitamin C into the vein with slow drip would impact human cancer.
There are multiple hypotheses about the way vitamin C has anti-tumor effects. An important possible mechanism of action is that in pharmacological concentrations (especially after intravenous use). Ascorbate functions as a pro-oxidant and stimulates the formation of hydrogen peroxide (H2O2) from ascorbate via Fenton reaction with iron ions in extracellular space. Hydrogen peroxide can create reactive oxygen species (ROS),that directly have cytotoxic activity and induce apoptosis selectively in cancer cells. Healthy cells can neutralize H2O2 with catalase enzyme.
Another important hypothesis is that vitamin C can create important epigenetic changes due to its effect on 2-oxoglutarate-dependent dioxygenases, like histone and DNA demethylases. Vitamin C regulates embryonic stem cells differentiation and inhibit p53 induced replicative senescence.
Vitamin C has an important role in the immune system, as it stimulates the production and/or activation of immune cells, like T-lymphocytes and natural killer cells, that have a function in fighting against pathogens and cancer cells. Vitamin C is essential for synthesis of immunoglobulin. In preclinical studies investigators also show that vitamin C can have a synergistic effect with some types of chemo- and immunotherapy. High dose vitamin C IV is very supportive during chemotherapy, improving drug uptake and reducing resistance. High dose vitamin C reduces side effects of chemotherapy, radiotherapy so it can improves quality of life . High dose vitamin C can alter hyaluronidase activity that helps slowing the spread of cancer and can deplete copper level which inhibits angiogenesis.
High dose vitamin C IV can stabilize a majority of cancer cases, arresting growth and spread of tumors. Good results are seen in
Lymphoma
Non-small cell lung cancer
Cholangiocarcinoma
Breast cancer
Kidney cancer
Bladder cancer
Prostate cancer
Colon cancer
SIDE EFFECTS 
Reported side effects of High dose vitamin C IV include nausea, dizziness, dry mouth, perspiration, and weakness. Suggestions for prevention of side effects include giving plenty of oral fluids before and during treatment.
SAFETY Conditions for which screening is recommended for all dosage levels of vitamin C IV include glucose 6 phosphate dehydrogenase (G6PD) deficiency, iron and copper storage diseases, renal failure, history of kidney stones or oxaluria, and pregnancy or lactation.
Using of lower doses of vitamin C IV could be appropriate at the discretion of the clinician
No Vitamin C IV is given to patients with G6PD deficiency.
Use caution with oral vitamin C in G6PD deficiency.
Using of lower doses of vitamin C IV could be appropriate at the discretion of the clinician.
SUPPORTIVE TO HIGH DOSE VITAMIN C THERAPY 
Hyperbaric oxygen therapy (HBOT)
Ketogenic diets
Oral vitamin K1/K2
Oral vitamin C 6-12 gm. /day
Selenium 200 mcg./day
Helixor M mistletoe 100-800 mg.
Quercetin
Grape seed extract
Biotin and Niacinamide
R-Alpha Lipoic acid
References 
https://riordanclinic.org/research-study/vitamin-c-research-ivc-protocol/
https://www.emedicinehealth.com/vitamin_c_high_dose_benefits_side_effects/article_em.htm#h igh-dose_vitamin_c_benefits
https://www.isom.ca/wp-content/uploads/2013/01/Oral-vs.-Intravenous-Vitamin-C-OMT- 2009.pdf
https://www.ncbi.nlm.nih.gov/pmc/articles/PMC5927785/ Intravenous vitamin C in the supportive care of cancer patients: a review and rational approach E. Klimant, MD,* H. Wright, ND,† D. Rubin, ND,† D. Seely, ND MSc,‡ and M. Markman, MD§ 
https://www.ncbi.nlm.nih.gov/pmc/articles/PMC6071214/ Systematic Review of Intravenous Ascorbate in Cancer Clinical TrialsGina Nauman,1 Javaughn Corey Gray,2 Rose Parkinson,2 Mark Levine,1 and Channing J. Paller2,*
https://journals.sagepub.com/doi/full/10.1177/1534735414534463?url_ver=Z39.88-2003&rfr_id=ori:rid:crossref.org&rfr_dat=cr_pub%3dpubmed Intravenous Vitamin C and Cancer: A Systematic Review
https://www.academia.edu/14219866/Intravenous_Vitamin_C_and_Cancer_A_Systematic_Revi ew
Naturopathic oncology-An encyclopedic guide for patients& physicians 3rd edition; Dr.Neil Mckinney, BSsc,,ND; Vitamin C: p.147-151 10. https://www.semanticscholar.org/paper/Vitamin-C%3A-a-concentration-function-approach- yields-Levine-Padayatty/560fdaba6d9730b4f12027f191bad209f9daa591/figure/3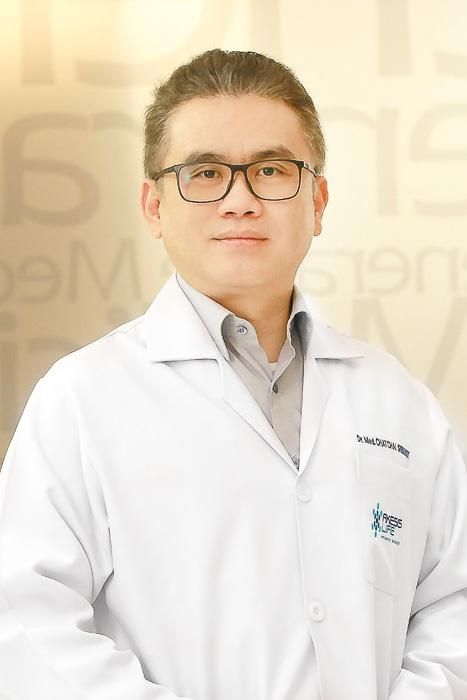 Chatchai Sribundit, M.D.
Dr. Chatchai Sribundit is the distinguished founder of Akesis Life. His education, training and community support is highly regarded worldwide. Dr. Chatchai traveled extensively during the past two decades in order to bring the best possible integrative cancer treatments to Thailand. His primary concern is the well-being of his patients through kindness and care.
Request A Free Consultation