RIGVIR® is a live, non-pathogenic Picornaviridae family, Enterovirus genus, Enteric Cytopathic Human Orphan (ECHO) type 7 virus.
It is the first registered and still the one and only genetically unmodified virus available worldwide.
RIGVIR® is used as oncolytic virotherapy in the part of IMMUNOONCOTHERAPY. 
What is oncolytic virotherapy? 
Oncolytic virotherapy is an active immunotherapy cancer treatment using special viruses, capable of finding and selectively destroying malignant tumor cells in the body.
Oncolytic virotherapy has recently been added as a cancer treatment tool in the USA
How does the Oncolytic Virotherapy affect cancer cells? 
Highly selective and with the ability to preferentially seek and enter tumor cells while
sparing non-cancerous tissues and cells. This process called oncotropism. 
So far, no resistance has been identified during oncolytic virotherapy
The medicine contains a live, adapted, non-pathogenic and not genetically modified
enterovirus.
Oncolytic virus destroys malignant cells in the human body. This process is called oncolytic. 4. Virus not only destroys cancer cells but also affects the immune system, inducing immune
cell activity and mobilizing them to fight cancer.
It stimulates the natural defense system of the body by activating immunity.
It is maximally efficient in replicating inside cancer cells and destroying tumor tissue.
Oncolytic virotherapy with RIGVIR® is a safe and effective cancer treatment, which improves time to progression, overall survival and the quality of life for cancer patients.
RIGVIR is approved and registered for virotherapy, an active and specific immunotherapy, in Latvia for melanoma treatment since 2004 and is included in the national guidelines for melanoma treatment in Latvia.
There are successful clinical experiences in using RIGVIR in combination with other cancer treatment of the following malignant tumor :
Stomach
Colorectal
Pancreatic
Uterine
Kidney
Urinary bladder
Lung
Prostate
Breast
Several types of sarcoma
RIGVIR is a 2 ml frozen solution of an adapted and selected ECHO-7 virus strain.
The titer is not less than 106 TCID50/ml in sodium chloride for injection.
Route of administration 
Rigvir can administer via intramuscular, intradermal, peritumoral, intratumoral and intranasal in case of brain metastasis.
Protocol of treatment should continue for 3 years.
RIGVIR® is well tolerated and causes no any serious adverse effects. Few side effects are reported such as sub-febrile temperature (37.5°C for a couple of days), pain in the tumor area, sleepiness and diarrhea.
References 
[1]https://www.ncbi.nlm.nih.gov/pmc/articles/PMC4560272/
Melanoma Res. 2015 Oct; 25(5): 421–426.; Adapted ECHO-7 virus Rigvir immunotherapy (oncolytic virotherapy) prolongs survival in melanoma patients after surgical excision of the tumour in a retrospective study: Simona Doniņa,a,b Ieva Strēle,c Guna Proboka,a Jurgis Auziņš,d Pēteris Alberts, d Björn Jonsson,e,✠ Dite Venskus,d and Aina Mucenieced,✠ 
[2]https://www.ncbi.nlm.nih.gov/pubmed/30179611
[3]https://www.rigvir.com/products/rigvir.php
[4] https://www.sciencedirect.com/science/article/pii/S0014299918305053 The advent of oncolytic virotherapy in oncology: The Rigvir® story
[5] https://www.researchgate.net/publication/305648481
Long-term treatment with the oncolytic ECHO-7 virus Rigvir of a melanoma stage IV M1c patient, a small cell lung cancer stage IIIA patient, and a histiocytic sarcoma stage IV patient- three case reports
[6]https://www.ncbi.nlm.nih.gov/pubmed/29581783
Effect of the oncolytic ECHO-7 virus Rigvir® on the viability of cell lines of human origin in vitro.
Tilgase A1, Patetko L2, Blāķe I2, Ramata-Stunda A2, Borodušķis M2, Alberts P1 
[7] https://www.ncbi.nlm.nih.gov/pubmed/30179611
The advent of oncolytic virotherapy in oncology: The Rigvir® story.
Alberts P1, Tilgase A2, Rasa A2, Bandere K2, Venskus D2.
[8] https://www.ncbi.nlm.nih.gov/pmc/articles/PMC5834433/
Melanoma Unknown Primary Brain Metastasis Treatment with ECHO-7 Oncolytic Virus Rigvir: A Case Report 
Guna Proboka,1 Andra Tilgase,2,* Sergejs Isajevs,3,4 Agnija Rasa,2 and Pēteris Alberts2 
[9] https://www.ncbi.nlm.nih.gov/pubmed/30283278
Multimodality Treatment of a Colorectal Cancer Stage IV Patient with FOLFOX-4, Bevacizumab, Rigvir Oncolytic Virus, and Surgery.
Tilgase A1, Olmane E2, Nazarovs J3, Brokāne L4, Erdmanis R5, Rasa A1, Alberts P1.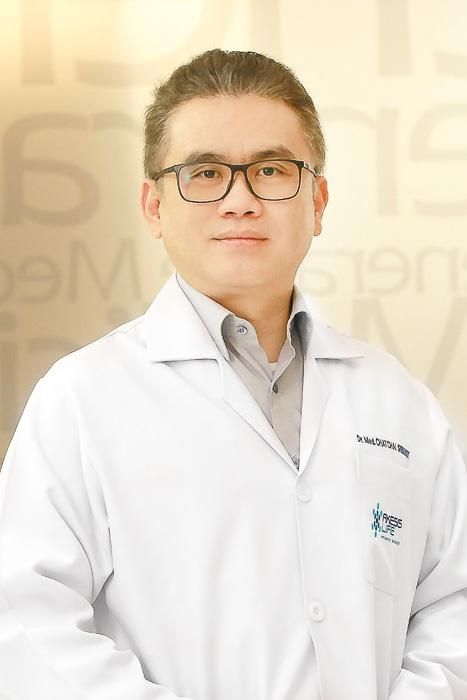 Chatchai Sribundit, M.D.
Dr. Chatchai Sribundit is the distinguished founder of Akesis Life.  His education, training and community support is highly regarded worldwide.  Dr. Chatchai traveled extensively during the past two decades in order to bring the best possible integrative cancer treatments to Thailand.  His primary concern is the well-being of his patients through kindness and care.
Request A Free Consultation