Gc MAF (Gc protein-derived Macrophage Activating Factor)
Gc MAF (Gc protein-derived Macrophage Activating Factor)
Cancer immunotherapy is the use of the immune system to eradicate cancer. In particular, it involves stimulating the patient's immune system to locate and eliminate the cells that are cancerous.
We therefore contend that cancer immunotherapy should be multimodal and customized to each individual patient. We propose integrative cancer immunotherapy based on second-generation group- specific component macrophage activating factor (GcMAF) as a promising candidate for a patient- friendly cancer immunotherapy.
Function, biological and pharmacological properties of Gc-globulin and Gc-MAF:
The vitamin D-binding protein (DBP) Gc-globulin (human group-specific component), in addition to the storage and transport of vitamin D, has an important physiological function as a scavenger of extracellular G-actin to increase neutrophil chemotaxis and macrophage activation . Studies have shown that Gc- globulin is a protein with a structure similar to albumin that is a receptor of active vitamin D3 .
Gc- globulin plays a role in immune system regulation, osteoclastic activity and as a primary defense against infectious factors such as immunodeficiency virus and sepsis. Gc-globulin when modified is capable of affecting the activation and fortification of immune cells exhibiting anticancer activity. These molecules activate macrophages after deglycosylation through β-galactosidase and sialidase of the B and T lymphocytes, respectively.
Many and possibly most cancers secrete an N-acetylgalactosaminidase – a.k.a. nagalase – that prevents the synthesis of and also degrades GcMAF, protecting the cancer from macrophage-orchestrated destruction.
Nagalase has been reported to accumulate in the blood of cancer patients and it deglycoselates vitamin D3-binding protein (Gc protein). Deglycoselated Gc protein cannot be converyed into GcMAF, leading to immunosuppression.
Cascade from Gc protein to GcMAF and deglycosylation of Gc protein. 
Biological activity of GcMAF 
Macrophages activated by Gc-MAF offer different properties that are effective against a variety of cancers in human and animal models
– Increased phagocytic activity – Superoxide radical generation – Anti-angiogenic effect – Anti-tumor effect – Increased number of monocytes in the blood – Increased rate of maturation of dendritic cells in vitro
GcMAF possible indications 
– Cancer – Autism – Chronic fatigue syndrome – Various infectious disease (Influenzae, Novovirus, Malaria, Dengue fever, HIV, AIDS, Hepatitis B
and C, Tuberculosis) – Autoimmune disease
Potential of GcMAF Administration for Cancer Control 
Most cancer patients experience a deficit of GcMAF activity resulted in tumor spread. Administration of pre-formed GcMAF could compensate for this deficit and exert a beneficial immunostimulant effect in cancer patients.
Clinical studies evaluating GcMAF as a cancer therapy were published by Yamamoto and colleagues in 2008.
In clinical trials enrolling breast, prostate, and colorectal cancer patients who had achieved remission after therapy, but who were presumed to harbor microscopic metastatic disease owing to elevated serum nagalase levels, he found that weekly administration of GcMAF was associated with a gradual monotonic decline in serum nagalase; the normal range was achieved within 24-48 weeks, and these patients were reported to be alive and clinically cancer free a number of years later.
There are many cases report using GcMAF treatment in variety of cancer patients such as uterine cancer recurrence, lung cancer, hodgkin's lymphoma, and prostate cancer
Administration of GcMAF 
2nd generation of GcMAF can be used by Subcutaneous, intramuscular, intra-tumoral and intravenous injection with repeated of injection would be required for optimal result.
Safety 
The natural activation mechanism of macrophages by Gc-MAF is so natural and it should not have any side effects on humans or animal models even in cell culture. In addition to these considerations, it should be noted that no harmful side effects of Gc-MAF treatment have been reported, even when it was successfully administered to autistic children.
Reference 
https://www.ncbi.nlm.nih.gov/pubmed/14666733 
https://www.saisei-mirai.or.jp/gan/pdf/20140629-indications-gcmaf-immunotherapy-cancers- chronic-viral-bacterial-infections-toshio-inui.pdf 
https://www.ncbi.nlm.nih.gov/pubmed/27354652 
https://www.ncbi.nlm.nih.gov/pubmed/23780980 
https://www.ncbi.nlm.nih.gov/pubmed/16302727 
https://www.ncbi.nlm.nih.gov/pmc/articles/PMC2510818/ 
https://www.ncbi.nlm.nih.gov/pubmed/17935130 
https://pdfs.semanticscholar.org/8c6d/d28ae1280f52d857145bbd7b14d4a6146e2d.pdf 
https://www.ncbi.nlm.nih.gov/pubmed/29201312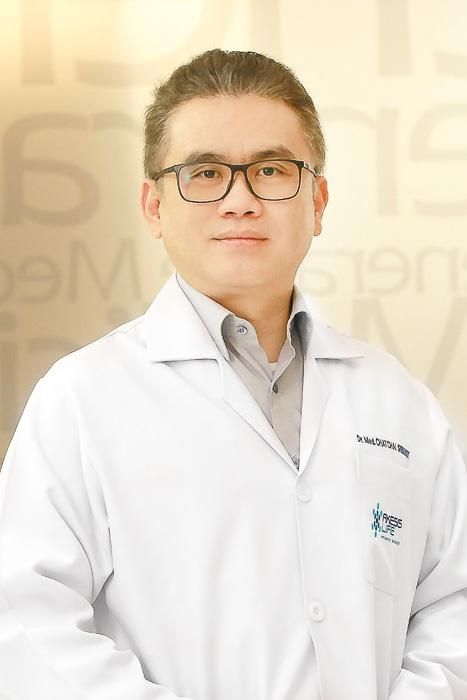 Chatchai Sribundit, M.D.
Dr. Chatchai Sribundit is the distinguished founder of Akesis Life.  His education, training and community support is highly regarded worldwide.  Dr. Chatchai traveled extensively during the past two decades in order to bring the best possible integrative cancer treatments to Thailand.  His primary concern is the well-being of his patients through kindness and care.
Request A Free Consultation