Alpha Lipoic Acid (ALA) & B Complex
Alpha Lipoic Acid (ALA) & B Complex
It's an antioxidant that recycles vitamin C, promotes aerobic cellular metabolism and regenerates cells through repair and making new healthy cells.
Cancer cells use the Warburg Effect, preferentially metabolizing carbon via anaerobic pathways that produce lactic acid.  Although this pathway is inefficient, it shunts much needed carbons into building materials for rapid cell replication.
Normal cells use the PDC Pyruvate Dehydrogenase enzyme to direct pyruvate (carbon) into the more efficient mitochondrial electron transport chain, producing large amounts of energy per carbon atom.  Operating this electron transport chain produces damaging oxidative byproducts called ROS reactive oxygen species. 
This is no problem for the normal cell which has anti-oxidant protection. The cancer cell, on the other hand, has little protection from this oxidative onslaught, making the cancer cell susceptible to oxidative therapies such as alpha lipoic acid.
Shunting Carbon Into Mitochondrial Electron Transport
The central metabolic feature of the cancer cell is the inhibition of the PDC which blocks entry of carbon into the electron transport chain.  If we could find some way to force the Cancer Cell to use the mitochondrial electron transport chain, this would overwhelm the mitochondria which would then burn up and trigger apoptosis, i.e. programmed cell death. 
This is exactly what alpha lipoic acid does at the molecular level. Lipoic Acid can reduce cancer cell viability/proliferation, reduce uptake of glucose, reduce lactate production and increase apoptosis in all investigated cancer cell lines.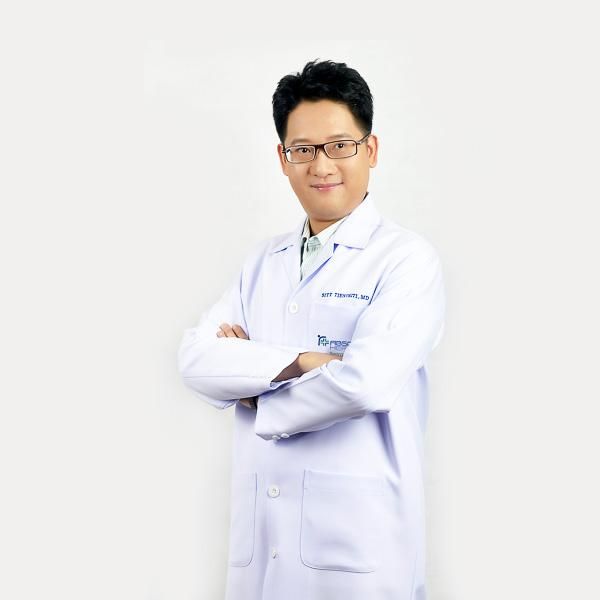 Sitt Tienthiti – M.D.
Dr. Sitt Tienthiti is a specialist in Integrative Medicine, with emphasis placed upon nutrition. His certifications and training span the globe. He believes that nutrition is the pillar of health. This is the foundation of his practice. He whole heartedly believes that "every human has the healing power, doctors coach you how to use this power affectively.
Call us to learn how we can help
Learn how Akesis Life can put you one step closer to a cancer-free life
Call to learn more
Learn how Akesis Life can put you one step closer to a cancer-free life
Request A Free Consultation

Visit Us
21 Fl., 253 Asoke Building,
Sukhumvit 21 Road, Klongtoey-Nua,
Wattana, Bangkok 10110