Importance of Understanding and Education
Perhaps one of the greatest lies ever perpetrated upon the human race is that 'health is impossible, and disease is inevitable'. In fact, this fundamental, false premise (belief) has so permeated our culture that we plan on becoming ill … we believe this so much that we purchase "health insurance" (disease insurance) since we WILL become sick.
When considering the above, it becomes clear that our formal education and the education we receive passively from our parents and social interactions train and prepare us for a life of sickness, doctors and hospitals instead of an energetic childhood full of dreams and preparation for a vibrant adulthood and vigorous old age.
The prophecy is fulfilled … the 'school of disease' graduates almost all of its students.
Antidote to Living Under False Beliefs and Lies
In an effort to reverse these false teachings and re-educate people to the truth that 'health is our birthright', we have developed the School of Life. This school has a precise curriculum designed to accomplish things:
Change the knowledge base (data base), Acquire skills to live a life of health, Experience health
Changing the knowledge base or "relearning" consists of lectures covering all the areas that serve as our fundamental belief system about life and health
Introduction to your 'earthsuit' (body)
What this earthsuit needs to function optimally
How to acquire and satisfy the fundamental needs of the earthsuit
Human food
Cleansing through fasting and liquid diets (juicing)
Waste elimination
Proper sleep habits and patterns
Stress avoidance and reduction
Environmental toxin avoidance
Modify relationship dynamics
Exercise
There isn't really any medicine that you could take that could possibly provide all of the benefits that exercise does. Movement is fundamental to life – when we do not move, our bodily function slowly begins to deteriorate. Essential to healing, movement is also one of the most valuable ways to lift spirits and maintain the motivation and joy in life.
Amongst its myriad of benefits, specific to your treatment – exercise helps to minimize inflammation – the underlying pathology of nearly all disease. By reducing C-reactive protein (CRP), regulating hormones and blood sugar levels supports immunity through increased circulation and respiration and increased lymphocyte production. Almost as importantly – the mental impact, especially after a long day in the clinic, is invaluable.
Think about a river – constantly moving it is a source of life that we can drink from. A pond, on the other hand, a stagnant unmoving body of water – is a cesspool of bacteria, parasites, and germs. Our bodies are no different, when we don't move – the negative impact on our extra-cellular fluids makes it almost impossible to heal.
At Akesis Life, we offer yoga and breathing classes 4-5 times a week, and in the mornings – we encourage everyone to get moving. It doesn't have to be fast, or furious – but it does need to happen every day to give you the best chance of healing.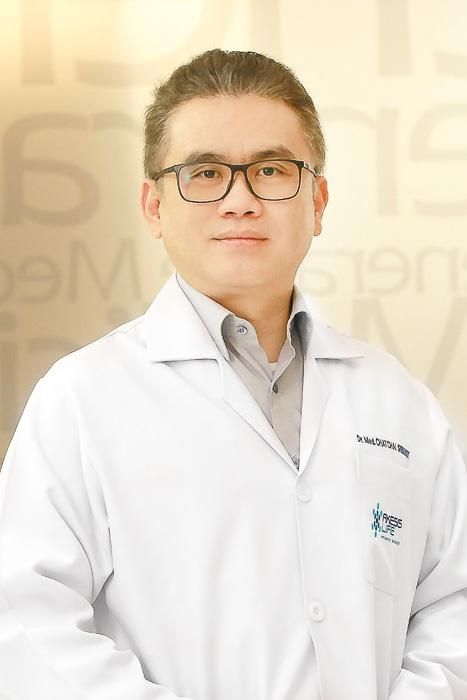 Chatchai Sribundit, M.D.
Dr. Chatchai Sribundit is the distinguished founder of Akesis Life. His education, training and community support is highly regarded worldwide. Dr. Chatchai traveled extensively during the past two decades in order to bring the best possible integrative cancer treatments to Thailand. His primary concern is the well-being of his patients through kindness and care.
Call us to learn how we can help
Learn how Akesis Life can put you one step closer to a cancer-free life
Call to learn more
Learn how Akesis Life can put you one step closer to a cancer-free life
Request A Free Consultation

Visit Us
21 Fl., 253 Asoke Building,
Sukhumvit 21 Road, Klongtoey-Nua,
Wattana, Bangkok 10110